Has it been a wild ride for IPOs this year or what?
We've seen major rideshare companies Lyft Inc (LYFT) and Uber Technologies (UBER) IPO… as well as some unexpected unicorns like (fake-meat supplier) Beyond Meat (BYND) and Zoom Video Communications (ZM).
Not only that, but we witnessed the largest company in the world IPO — Saudi Aramco, which actually halted trading after the stock popped more than 10%.
Despite all the new companies that have hit the market this year… there is still a massive backlog of potential unicorns set to hit the ground running in 2020.
And I don't think there could be a better time than now to learn about the lifecycle of IPOs to position yourself for massive profits.
Right now, there are a few companies I'm keeping my eye on… ones that could IPO very soon and provide us with opportunities to participate in potential moves higher.
---
— RECOMMENDED —
A system designed to pinpoint, position, and PROFIT from the 3 key moments in the life cycle of every IPO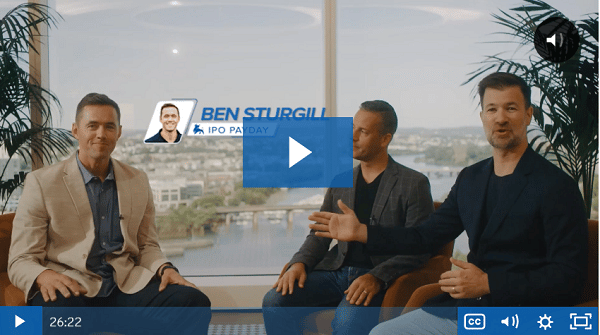 "I have discovered that there are 3 major events in the life of all IPOs, and these 3 moments are where fortunes are made. I'm here to show you exactly how to capitalize on these opportunities, and put big PayDays in your pocket." – Ben Sturgill
---
Three Companies to Keep An Eye On in 2020
I'm keeping my eye on three companies that could go public in 2020:
Palantir
Casper
Postmates
I think the perfect way for you to start learning about these IPO unicorns is to get a quick background… that'll speed things up as you conduct due diligence.
Palantir Technologies
Palantir is one company not too many traders have heard about… it's quietly grown to a multi-billion dollar company and sought to raise at least $26B in 2019. However, after it saw some potential tailwinds and how other massive companies reacted after they went public…
It postponed its IPO.
So what's Palantir all about?
Well, it was founded by Peter Thiel (yes, the same guy who made his fortune investing in Facebook in its early stages)… and it's quickly grown into a controversial data analytics company. And it's one of the most-talked-about companies in Silicon Valley.
Now, I can't tell you too much about the fundamentals… but all I know is it's a secretive data mining company that has provided services to the U.S. Department of Defense, law enforcement, and other federal agencies… not only that, but their technology helped the U.S. with terrorists.
The company targeted an IPO in 2020 earlier this year… and that could still happen, and I'll be keeping an eye to see if that'll materialize.
Casper Sleep Inc.
I remember this company a few years ago… I saw commercials for it everywhere… and it quickly ballooned to a $100M IPO. Similar to Palantir, Casper skipped out on a 2019 debut. However, 2020 could be the perfect time for the "sleep" company to go public.
So what's Casper all about?
It's a direct-to-consumer mattress company. Basically, you order a mattress, you get it delivered right to your door. No need to have moving people try to drag in an oversized mattress… you can do it all on your own pretty much.
Earlier this year, Casper reached "unicorn" status as it received a $1.1B valuation. The company has seen strong revenue growth… and there's been more mattress companies that have performed well…
Not only that, but Casper has received some notable celebrity endorsements from the likes of Kyle Jenner, Leonardo DiCaprio, and Adam Levine…
2020 might be the perfect time for Casper to IPO if the market conditions are rosy.
Postmates
You've probably heard of the food delivery service Postmates before… they're all over the place in large cities like San Francisco, New York, Austin… you name it, they're probably there. This company is valued at more than $2B and was expected to IPO in 2019.
However, it delayed its debut citing market conditions were signaling it was a bad time to IPO. I don't blame them… especially when Lyft and Uber got smoked this year… and WeWork's hopes and dreams of becoming a publicly-traded company crashed and burned.
But that doesn't mean Postmates won't go public and be available for us to trade come 2020. The CEO noted the company is still closely watching the macros and other startups to time their IPO…
And who knows, it could be as early as the first half of 2020.
With a plethora of companies postponing their 2019 debuts… 2020 could be jam packed with the hottest companies for us to trade… but you need to have the right strategy in place.
Click here to find out how you can run with the unicorns very soon.
Source: Ragingbull.com | Original Link