Futures are pointing to a higher open this morning after stocks fell to their worst levels in about 3 months yesterday.
For some traders, this market has become difficult to trade. Fears of a trade war and a global economic have traders reacting to nearly every tweet and breaking news.
However, you don't have to become an economist overnight to be able to trade this market successfully.
In fact, you can avoid all the noise if you wish…
 Wednesday, May 29, 2019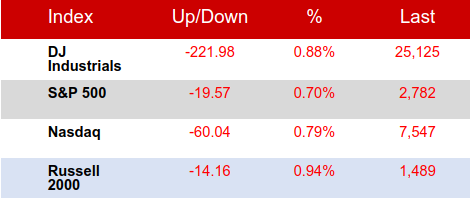 While most traders were feeling pain yesterday… Many of my clients, including myself, managed to have a green day.
(I teach my clients how to build up a small trading account. I also trade my own capital to show them how my strategies work and easy they are to learn. If you'd like to learn more about my service, click here to find out.)
(I can teach you how to turn a small account into an advantage, watch this video to learn more)
Now, part of our success has been due to trade selection. By sticking to penny stocks we can focus on the catalysts and chart patterns without having to worry too much about what the overall market is doing.
Best of all… we are trading stocks that can move anywhere between 20 to 50% overnight… so not only are we avoiding the big headline risks… we are putting ourselves in a position to make more than if we traded large caps like Apple and Microsoft.
Read on to learn why I think penny stocks might be the best place to be in during this stock market sell-off, along with real money case studies from the last few trading sessions.
Penny Stocks Are Hot During Market Selloffs
So the market sold off and broke below the Death Line yesterday… and traders have been worrying about economic growth. Well, I wasn't paying attention… I was too busy watching penny stocks and finding potential trades.
You might be wondering, "Jeff, doesn't this market selloff worry you at all?"
Absolutely not.
In my eyes, penny stocks are the flight to safety when markets are volatile.
Why do I think that?
Well, trade war headlines haven't affected the stocks I'm trading… nor do economic growth concerns. You see, penny stock traders aren't looking at that news because it really doesn't have anything to do with them.
Sure, if you're trading stocks like Apple (AAPL), Amazon.com Inc (AMZN), Facebook (FB), and any other large caps… the market will move those stocks.
However, with penny stocks… what moves them is stock-specific news and technicals (chart patterns).
For example, Eltek (ELTK) was one of the hottest stocks on the street yesterday…
The company reported earnings yesterday… and it closed at $1.64 the other day…
Well, here's what the stock did.
If you were able to understand a bit of fundamentals and charts, you could've spotted this trade.
Well, you can see despite the fact the market gapped down yesterday… ELTK still closed at $7 (up ~327%)… and it was trading above $8 in the after hours.
Now, I've actually been having quite a bit of success with penny stocks over the past few days, despite the market selling off.
You might be wondering, "Jeff, how are you finding penny stocks to trade in a sea of red?"
It's pretty easy actually, I look at my favorite chart setups – the same ones that I used in my small accounts last year, which grew into day trading accounts.
You Can Trade Penny Stocks in Any Market Condition
Here's a look at a stock I actually traded. The markets were selling off the other day… and I was actually long Obalon Therapeutics (OBLN) based on the technical setup… and a bit of fundamentals.
Notice the chart above… and how OBLN bounced right off that blue line?
Well, that's an area of support… and traders tend to respect those levels. So I actually bought shares and it went right to my target (at 70 cents). The stock actually broke above a dollar yesterday, but I already took my profits. You can read more about the trade and why I bought it, here.
Now, when you compare that to what the SPDR S&P 500 ETF (SPY) – the market-tracking exchange-traded fund (ETF) – was doing yesterday…
You see, despite the market being weak over the past two days… OBLN was strong, and market participants who were trading it couldn't care less about what the market was doing… they were focused on technicals and the price action.
Here's another look at a stock I traded… during this market selloff.
Remember the SPY chart?
Well, the day I bought it… the market did a whole lot of nothing… and I was looking to hold it into the extended weekend (that's when market headlines could hit the wires). But I wasn't worried about that at all.
I was really just focused on the pattern here.
Notice how Sunworks (SUNW) broke above the red line? Well, that's the 50-day simple moving average (SMA). When price breaks above an SMA line… it's pretty bullish. We also saw volume picking up a bit.
That said, I bought shares at $0.89… and here's what the stock did on Tuesday.
Now, as you can see… despite the market being weak on Tuesday… SUNW actually closed up strong.
I alerted clients about this trade… and I got out for a nice ~10% gain…
With trades like that, I was able to lock in gains like these:
(If you want to build your small account and realize gains like these, click here to get started.)
You see, just because markets are red… it doesn't mean your profit and loss (PnL) has to be. I'm able to avoid all the headlines just by trading penny stocks because they just don't trade with the overall market… they're in a world of their own.
Source: PennyPro.com | Original Link