With the quarter coming to a close in less than a week… I sit back, sip on coffee and reflect on my performance and how I plan to attack Q4.
I take time investigating and searching for any glaring holes in my game… because I know in this business when you're wrong—it costs money.
That's why it's so critical to spot trends and make adjustments.
Focus on your strengths and cut out what's not working. 
For me personally, things couldn't get any better — I turned my $3K account into $20,728 (in just 10 weeks).
Talk about the come up.
The money isn't as big a deal to me, but what is, is teaching people how to trade by showing them how I do it.
I get great pleasure when I hear that my students are taking the lessons I've taught them and applied them:
L.D.D. : Jeff, Just wanted to thank you for last week's GHSI wins of 35.9% and today's of 25.4%.
D.Q. : Out GHSI @0.91 from @0.75. +1050
M.C. GSHI profit of $2,106 over the last week! THANKS JEFF!!!!!!
Now, if you're still chained up, struggling to find a way to overcome the PDT rule and take your trading a level up then I've put together a blueprint for you.
It will show you step-by-step on how to breakthrough from the PDT chains once and for all.
The Road to Breaking Free of the PDT Chains
For those of you who don't know, the Pattern Day Trader (PDT) rule states that if your account is under $25,000, then you are limited to 3 round-trip trades every 5 trading days.
But the thing is… that's just fake news and it shouldn't deter you from thinking you can't make money in the markets.
That's why I developed a system that circumvents the pesky rule holding so many traders back.
The truth is: you don't need to have a massive account to trade… and you certainly don't need to be staring at your computer screens all day.
No joke.
There is one strategy that I use that allows me to generate passive income over the weekend. I call it Weekend Wiretap.
Basically, I developed a scanner and I find the stocks with the highest gap-up potential.
The best part?
All I have to do is look at a simple chart.
Don't believe me?
Let me show you.
On Sept. 13, I shared my Weekend Wiretap trade and my members were able to grab shares of GHSI.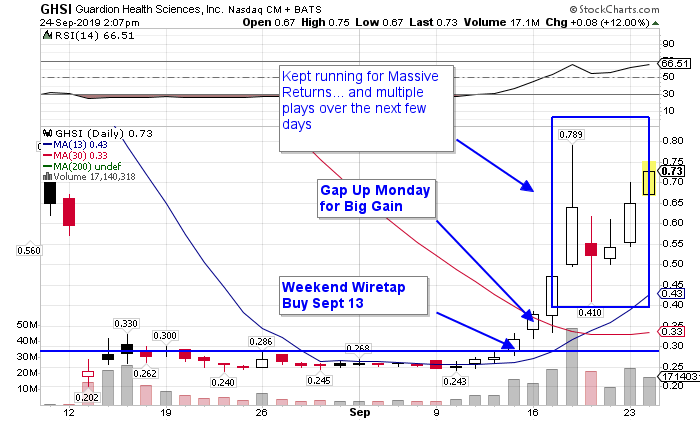 That following Monday, GHSI gapped up for a nice base hit… but just two days later… the stock had a supernova spike and I was so stoked many of my clients were taking profits.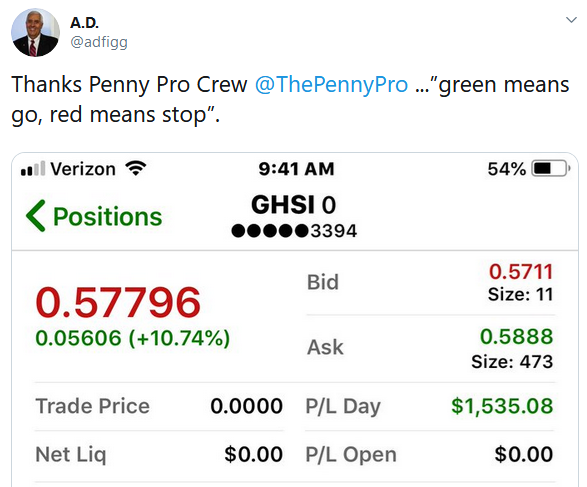 F.R. — out 2 trades total on LIBE $900 total and 1 on GHSI $1,050 = $1,950 time in trades 1 week and 1 day trade today. Ty Jeff……
K.P. — Out GHSI – $1100!!
R.D. — GHSI in @.37, out @ .54. THANK YOU JEFF
R.M. — Total profits out of GHSI for a total of $2,491 and I'm sure there's more down the road. Thanks Jeff
J.B. — out GHSI for $1,716 profit YES YES YES
That's not the only strategy I use to make money in this market.
For example, I'll also use a breakout pattern — where I literally just find an all-important area that lets me know exactly where the stock could get to.
Let me paint you a picture.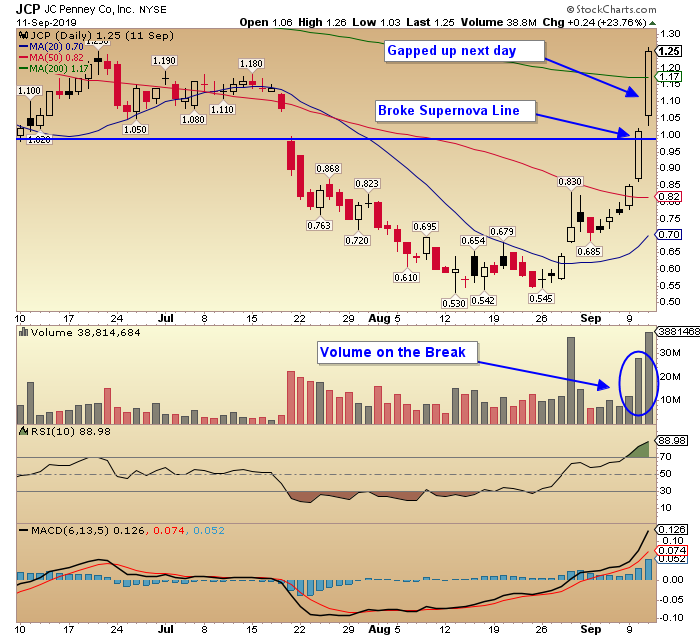 I spotted the supernova line and noticed there was volume behind the move.
That signaled to me that the stock — JC Penney Co. (JCP) — had a high chance of gapping up and just hit the ground running.
So what did I do?
I alerted my clients about the setup…
T.W. —Thanks Jeff – just sold JCP for a $900 gain
K.P. — Hi All, joined supernova service yesterday and made $560 on JCP , Thanks Jeff
I could go on forever about the different ways to make money trading stocks with a small account… but that's not the point.
The whole idea is to continue taking these trades and just focusing on your best setups… so that you can grow your account and reach that $25K threshold.
That means you'll need to:
Journal your trades — writing down every key detail
Reviewing your wins and losses
Making adjustments (cut your losing strategies and just focus on locking down winners)
Scale up (once you grow your account, you could compound your returns fast)
Once you follow those steps… you'll be well on your way to breaking above that trading ceiling at $25K.
Source: PennyPro.com | Original Link