As traders, we often get caught up in the internals—chart patterns, price action, volume, and volatility, etc. However, news catalysts often are what drives stocks to make the moves they make.
One way you can become a faster trader is becoming more knowledgeable about the companies you trade. That is, understanding its business, how it makes money, and other fundamentals.
I know it's often neglected. But today, we're going to take some time and discuss one of my favorite sectors in entertainment—streaming providers.
The fierce competition between streaming providers creates plenty of volatility and trading opportunities for stocks in the sector.
One of my favorite ways to play the group… hold on… wait for it…
… you guessed it, ROKU.
I could trade this stock all day… every day.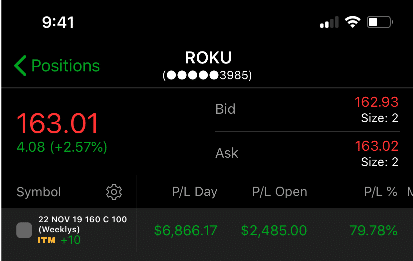 These are trades I stream live for Weekly Money Multiplier clients.
Netflix long dominated the streaming market. Their hold seemed absolute. They layered original content in among hundreds of B-rated movies.
Eventually, Amazon had enough. They burst onto the scene with the Oscar worthy film— Manchester By the Sea, along with several other critically acclaimed series.
Not to be outdone, Netflix doubled down on its original content investments, vowing to obliterate the competition.
But then Disney threw down the gauntlet. It brought  back the fabled Marvel brand and expanded with Star Wars… much to the delight of nerds everywhere.
Within moments, Star Wars The Mandalorian trailers followed, and gifs of baby Yoda circled their way around the globe. Putting all the streaming players on notice.
Some quick facts
70% of Americans subscribe to at least one streaming service. But on average, they have around 3 services they use to fulfill their viewing needs. Many customers find it incredibly easy to justify having a few with low monthly subscription fees.
Netflix (NFLX)
Netflix is the gold standard of streaming services. The price tag for Netflix varies and depends on how many people watch or if the content will be Ultra HD.  They're available in 60 different countries.
Netflix Originals draw huge viewership, with some developing a cult-like following. Big hits like Stranger Things and Orange Is The New Black keep subscribers coming back for more.
Disney (DIS)
The newest streaming service to the game is packing a punch. While Disney+ is brand spanking new, they are no stranger to the streaming game. Disney owns Netflix's nemesis Hulu. And Disney is appealing to everyone with its marketing strategy.
Hulu already carries a hefty amount of original content and weekly viewing of some cable TV.
Disney+ will be appealing to the masses and not just with an endless supply of classics to keep the kiddos entertained.
Disney also appeals to tight budget. Disney+ costs $6.99 a month. But for a slight increase in price you get Hulu and ESPN+ to…a triple whammy for bargain hunters that has something for the whole family.
Apple (AAPL)
Let's not forget about the other new guy on the block Apple TV. Apple is its own massive empire. But now, it's dipping its toes into the streaming business as well. They also are name dropping like crazy and have a low-price tag to peak interest.
But besides star-studded new shows, they don't have much. There is no library to watch beyond Apple shows. This aspect has deterred some streamers.
Alphabet (GOOG)
Most people forget Google owns YouTube. YouTube TV reaches out to the Walking Dead lovers and fans of cable on the cheap. They offer network television like AMC, CBS, ESPN, HGTV, FX, and more.
Amazon (AMZN)
Then there is Amazon Prime Video. It carries its carefully crafted content, like The Boys and The Man in the High Castle. Plus it has Blockbuster movies that have won numerous awards.
The Rest
But get ready…
There are more streaming services to come!
HBO currently has its own channel, along with HBO Now. It already has on-demand viewing of major hits like Game of Thrones, Westworld, and True Blood.
Yet, HBO is going beyond being an add-on to a current service or a single app that costs $15.99.
HBO is dropping HBO Max next year. It will also have all HBO's current and past shows in its library as well as Warner Bros's. The newest shows from both with be on it as they come available.
Competition Is Steep
This war for subscribers costs money… lots of it. Netflix currently has close to 160 million paying subscribers around the world… with another 5 million still working on their free trial. As of now it still sits at the top of the streaming world.
In the past year, Netflix's revenue was over $18 billion, a 26% increase from last year.
Most years Netflix has had over a 30% increase in revenue every year. They plan to keep the original content rolling with the hope this will draw in more subscribers and even more money.
Hulu has 28 million subscribers, and last year it pulled in $1.5 billion from ad revenue.
However, many subscribers chose to pay a bit more to opt-out of ads. But Hulu has been operating at a loss and Disney knew that when it scooped Hulu up.
Disney+, which debuted November 12, already has over 10 million subscribers.
That's one-third of what Hulu has, who has been operating for years. And Disney is planning on growth. They project in 5 years 60 to 90 million subscribers for Disney+. 60 million for Hulu, and around 12 million for ESPN+.
Last year Amazon Prime Video had 26 million subscribers, half of which Netflix had in just the US.
This is despite Amazon Prime on its own having more subscribers than Netflix.
These Prime Video numbers isn't a let down. Amazon is keeping customers in the world of Amazon.
Prime Video subscribers are more likely to spend money on more things Amazon.
Device Providers Making Bank
ROKU is getting ready to see the money start pouring in from this war. Besides having its own streaming service, ROKU receives money from commissions. That means every time you use your ROKU to sign up for a new subscription, a percentage of that goes right into ROKU's pocket. ROKU already receives money just for offering that service.
ROKU pulled in around $417 million in revenue last year, and is predicting a rise in 2020 of over 30%. Many see a huge part of that coming from Disney+.
And this just won't be ROKU pulling in money alone. Other streaming devices work the same way, which makes these devices and smart TVs the new dogs in the war.
Learn how to make some serious money from these companies
I can tell you that I traded one of these companies for a nice profit in the last two weeks. If you want to get in on the action then join me at Weekly Money Multiplier.
Click Here to Join Weekly Money Multiplier.
Source: Ragingbull.com | Original Link