Extraordinary times calls for extraordinary measures. Ask most congressmen about the bank bailout in 2008 and they'll wrinkly their nose in disgust.
Ask them the same question about the airlines and they'll readily say they need help…but it's not a bailout.
Call it what you will, the government will not and cannot let certain industries go under for reasons from national security to financial stability.
That doesn't mean you can't find great pickups right here and now. I've already been dipping my toe into some of the gaming stocks in my Total Alpha Portfolio.
We need look no further than Boeing (BA) as the leader of this push. There is zero chance the U.S. government will allow its only commercial airline manufacturer, and one of two in the entire world to go under.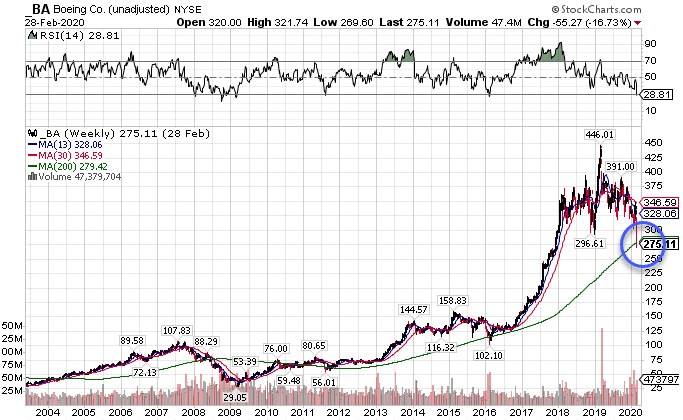 BA Weekly Chart
I like that the stock worked its way into the 200-week moving average. Typically, that's a great support level to trade against.
However, Boeing isn't the only company that looks good out there. Let me walk you through some other stocks I expect to get government assistance.
Delta (DAL), United (UAL) and American (AAL) Airlines
Transportation has become a backbone of our lives. We actually take for granted the current airline network that lets us travel home for Thanksgiving.
Back in the early days, airlines were heavily regulated entities. Ticket prices would be the equivalent of thousands of dollars today. It also became a classy affair where people dressed up to travel.
You may not realize it, but a huge portion of our economy is enabled by the passenger airline industry. Ever taken a flight for your company? You're not the only one. Tens of thousands of people fly every year as consultants, salespeople, executives, and any number of roles that require frequent travel.
That's why we can expect the government to step in to save the airlines. Some regional carriers have already closed up shop. I expect there will be more of those to come. Heck, I see potential consolidation in the airline industry.
You may be curious why I left out Southwest Airlines (LUV). Of the major airlines, they are much better capitalized than these three. I'm not sure they'll need any funds to stay afloat.
If you don't want to take single stock risk then the JETS airline ETF works well. It holds a basket of the major airlines and is an indicator for when things are likely to turn.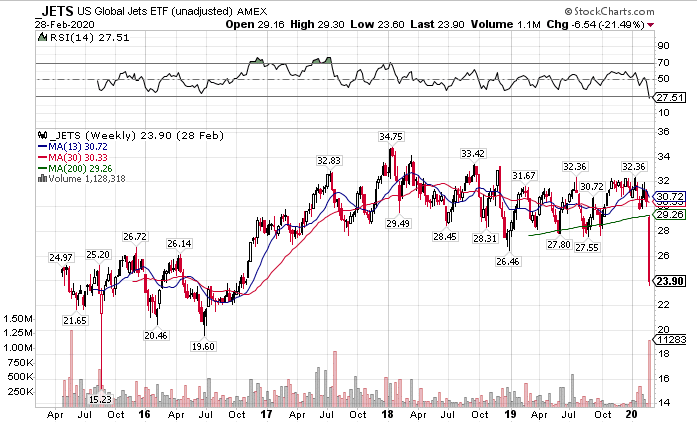 JETS Weekly Chart
Ford (F) & General Motors (GM) 
They bailed them out once, I bet they do it again. Trump needs to keep the midwest states in his corner for reelection. They were a key contributor to his 2016 win. Politically, he can't afford to allow them to fail.
Economically, cars still create a foundation for our economy. The U.S. government isn't going to let the only auto manufacturers to exist in the U.S. be foreign companies. It creates too much of a security risk and is a big reason they bailed them out over a decade ago.
Now, I'm not certain that they do more than loan them funds. There's also talk of retooling their machinery to produce ventilators and medical equipment. Plus, with direct payments to citizens likely to hit most of their employees, it's tough to say how much direct funding they'll take.
Royal Carribean (RCL), Carnival Cruise Lines (CCL). & Norweigian Cruise Lines (NCLH)
They'll probably be some other private companies as well that get added to this list. Cruise lines have been hurt in particular because of their close quarters. A major portion of their revenues come from the elderly soaking up their retirement.
Right now, all their ships are docked, which keeps their operating costs fairly low. However, like the airlines, there's plenty of costs from just sitting idle. The worst is yet to come as demand will be much slower to recover here than most other places.
With the large amount of jobs this industry supports both directly and indirectly, I suspect they'll get a similar deal as the airlines. However, I expect that all of them will need to take it to stay afloat.
Strings Attached
Be aware that not all of these gifts will be free. They'll likely be loans like the Troubled Asset Relief Program (TARP) issued to the banks. Eventually, they had to pay those back.
We're already seeing negotiations about whether they'll restrict stock buybacks, executive pay, or other caveats.
The best way to play this is to use the charts as your guide. You can pick up some easy skills in my upcoming masterclass. I'll give you the tools to start scoping out trades before you know it.
Source: TotalAlphaTrading.com | Original Link